Thing is I had every intention to go to bed by at least 12... Well, I did, I just couldn't fall asleep. Could I? Tried reading, that didn't work, watched madam Kitkit play with the stick insect, she looks so cute when she's hunting, and then the storm rolled in at 2, and rolled back out at 20 past. Didn't cool anything down though. I did get some sleep... all of three hours.

Any way, got to work, and prayed that it was going to be an easy day - one room and no back or side flats - lol. *sigh* Not to be, 2 side flats, 2 services, and 5 rooms, not to mention 3 kitchens (one on each floor).

My back and feet are killing me, not to mention that I am now chaffed as well. God, how I hate Queensland summers!!!!

Oh well, I'm off tomorrow, works still a little slow thank goodness, but I'm sure it will pick up pretty quickly if the phone calls Maureen took are anything to go by. lol
Gah!! First day back at work after a three week break. Can I start it all over again, this time starting with a decent nights sleep?
Current Mood:

drained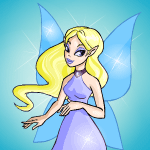 And Gemini is an air sign.
Hmm, I see a pattern here....
The Air Faerie from Neopets
Current Mood:

mellow
schnuffi
you may have one.
see more
Lolcats and funny pictures
Yes
Current Mood:

cheerful
Current Mood:

bored
Current Mood:

crappy